Get Belgium's finest Credit Management software
Credibill provides 3 standard licenses of credit management and billing software. Basic, Prime & Pro have been defined as best solutions through our previous case experiences.
Basic
Easy-to-implement automation reminding your customers to pay their open invoices. You are in complete control of the communication with your customers about their open invoices. Even credit limits can be handled smootly by CrediBill as most integrations with Business Information Providers already exist.
Prime
Your open invoices are slipping out of control, and your team is loosing the overview? Read your data and use the optimized tools to track your customers, their dues and any changes in payment behavior. We wouldn't want anything to go unnoticed.
Pro
You have a large customer base with lots of recurring business, all divided along your multiple divisions or legal entities? CrediBill pro is the ultimate solution. Talk to us about customizing flows and optimizing your reporting runs every month.
This is where the magic happens
Our modules
No results? No problem! Contact us for a custom fit solutions!
Custom Templates
Create your own custom templates using the built-in editor or use one of the more than 100 tags already created by our specialists.
Using the system preferences and template settings, you have complete control over all the templates.
Pdf Letters
Download and print your customized letters. Even mail-integration with the postal office is possible.
Mail Module
Reminders will be sent via our built-in SMTP server or yours to make sure all emails arrive in time at their respective destination.
Copy Invoice
Make sure your customers always get their invoices. Load copies of invoices in PDF or other formats via easy drag-and-drop screens or via automated imports. They can be sent along with every email reminder and can be used for a copy-invoice email when requested by your customer.
Texting
Send a proactive text-message to your customer to remind them about their invoice that will be due or has been due a few days. This is especially effective for B2C or small businesses. Include a POM payment link or link to your on payment service to ensure quick payments.
Printed Mail
Use our integration with Bpost to send your printer mail reminders with 1 click of the button. It can't go any faster than that, except if you choose to send them automatically, in which case the letter will be delivered fully automated.
If you opt to send registered reminders, you will receive the trackable barcode right in the action overview of your customer so you can track the status of the reminder.
Graphics
Our built-in graphs give you an insight on your status. You can always go and check your DSO-changes or what types of disputes you encounter the most.



Consolidated Aging
Your aginglists are always up to date and segmented just the way you need them. You can filter on aging data for your group, a division, a collector portfolio or even a segment of your customers. Or any combination, of course.
Custom Visuals
Because of the flexibility of the software, we can create any type of visual you want. Do you need a new pie-chart to keep yourself up to date? Or need a line graph? Done.
Custom Reporting
Do you use an Excel template to use in your reporting on Friday? Or do you want a report with your top 10 changing customers? Say the word, and we can build any type of reporting, both inside CrediBill and outside via email.


Multicurrency

Remind your customers to pay their bills in any currency. Each reminder can combine as many currencies as needed. All the reporting will always be done in your base-currency, but the customer needs to know what they owe in theirs.
Action Results
Log the result of each action you take. After some time, we can analyse actions, results and payments to give you an overview of what is most effective.
Office 365
Enable Office365 to see all sent emails from the software in your shared mailbox. You can use 1 mailbox for everyone, enter one mailbox per division / legal entity or even let every collector use their individual mailbox.
Custom Mailings
Let CrediBill read one or multiple mailboxes to enable Inbox functionality. You can mark emails as read and get notified of new emails right on the overview of a customer. You can send custom emails to email addresses you enter at will.
Multiple Divisions
Do you have multiple divisions or legal entities? No problem. Your customers can be divided amongst them. We can even read multiple ERP-systems or accountings, for every division individually.
Parent / Child Structure
If some customers return from amongst your divisions, no worries. We can group the customers and send them one unified reminder with their outstanding amounts for all divisions / legal entities. You can check the totals and invoices for all subcustomers or customers at other divisions right from one overview.
Central Invoicing
Use our billing module to write your invoices. We can use the existing integrations with Exact Online, Octopus, Venice and others to push newly created invoices right into the accounting structure.
Paylinks
Our integration with POM allows us to create new payment portals and links to send along with all reminders or in text-messages. This works great in B2C or with smaller companies. If you already use payment services like Mollie, we can integrate with those instead to use your existing infrastructure.
CODA-import
Import your CODE-files right from your bank to make sure every payment is logged on the right customer.
Business Information
We have standing integrations with Trends Business Information, CreditSafe and CompanyWeb. If you use any business information dealer, we can integrate their information right into the overview of a customer to give you a live idea of their situation.
If wanted, we can create custom reports based on or integrated with external business information. Do you need a list of your customers whose credit limit has been going down for 6 months? Now worries, we can deliver that.
Custom Solutions
In need of a custom module?
No challenge too big for our software, we will gladly take it upon ourselves to create the necessary modules custom to your company.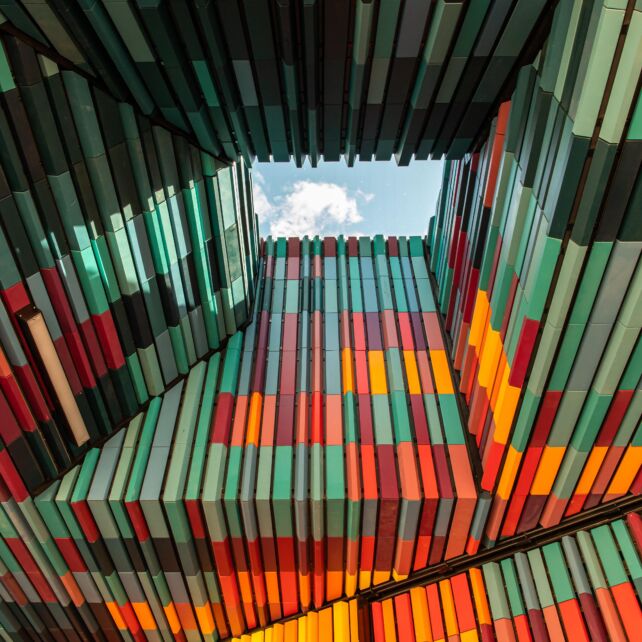 Let's get started. Book your free demo!